RMHA REGISTERED & CERTIFIED ROCKY MOUNTAIN MARES
..
MYRA MCGUIRE
Direct daughter of "Maple's Squirrel" (by Tobe)
Triple Registered and Certified RMHA / MPHA / KMHA Mare. Direct daughter of "Maple's Squirrel", a beautiful mare that is second generation, 42% "Tobe". One of the only Smoky Black, creme gene mares in existence. DOB: 3/12/99, 14.3 Hands, old-time sturdy build, hard hooves, smooth top line, old-time gait, absolutely the best disposition possible, extremely intelligent. Has produced many excellent, top-quality foals.
Myra was bred to R2 Eureka Eldorado (Nero) Begley's Candy Girl X Buddy's Mountain Major DOB: 5/6/16 Silver Classic Champagne
Nero carries a black, red, champagne and silver gene. His combinations for breeding will be endless. Not only will he be a producer of finely gaited, friendly and balanced foals but will also have the possibility for color. Genetics: Ee Ch/n aa n/Z
foal in April 2020. This incredible match will produce a top-notch foal. This foal is for sale in utero, for spring of 2020. This Foal can be reserved now, with a deposit, contract, and a choice of color and sex.(Price may be adjusted depending on sex and color).
PSSM1 - NEGATIVE
* Serious inquires only please. Home: 920-261-8429 Cell: 920- 285-6675
PEDIGREE
MYRA MCGUIRE

MAPLE'S

SQUIRREL

TOBE

OLD TOBE

HONEY

GOODPASTURES

MAUDE

UNKNOWN

UNKNOWN

DESTINY

JOCK

SON OF YANKEE

MANNING MARE

DULCEY

CHOCO

HI- HATS PIDDLEY ANN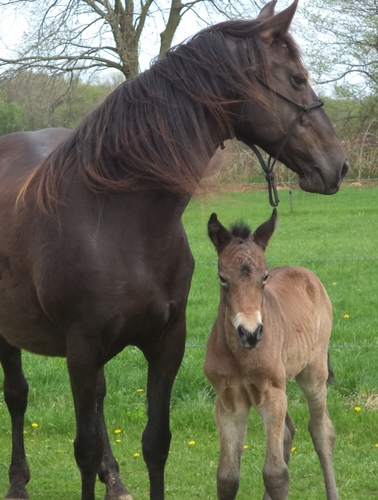 MYRA'S FILLY HEARTS'AFIRE BURNING DESIRE
BY: NUNCIO'S OZARK HEARTS'AFIRE (KOBE)
"OFFSPRING FROM THE PAST"
COMET'S MORNING STAR
THE COMET X MYRA MCGUIRE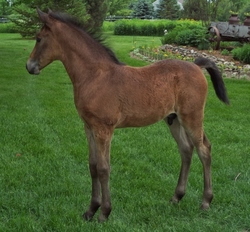 HEARTS'AFIRE LASTING IMAGE
NUNCIO'S OZARK HEARTS'AFIRE X MYRA MCGUIRE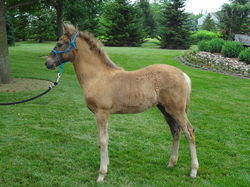 SQUIRREL'S APRIL CHARM
SQUIRREL'S SILVER DOLLAR X MYRA MCGUIRE
COMET'S BLACK JEWEL
THE COMET X MYRA MCGUIRE
MAJOR'S MOUNTAIN TROOPER
BUDDY'S MOUNTAIN MAJOR X MYRA MCGUIRE